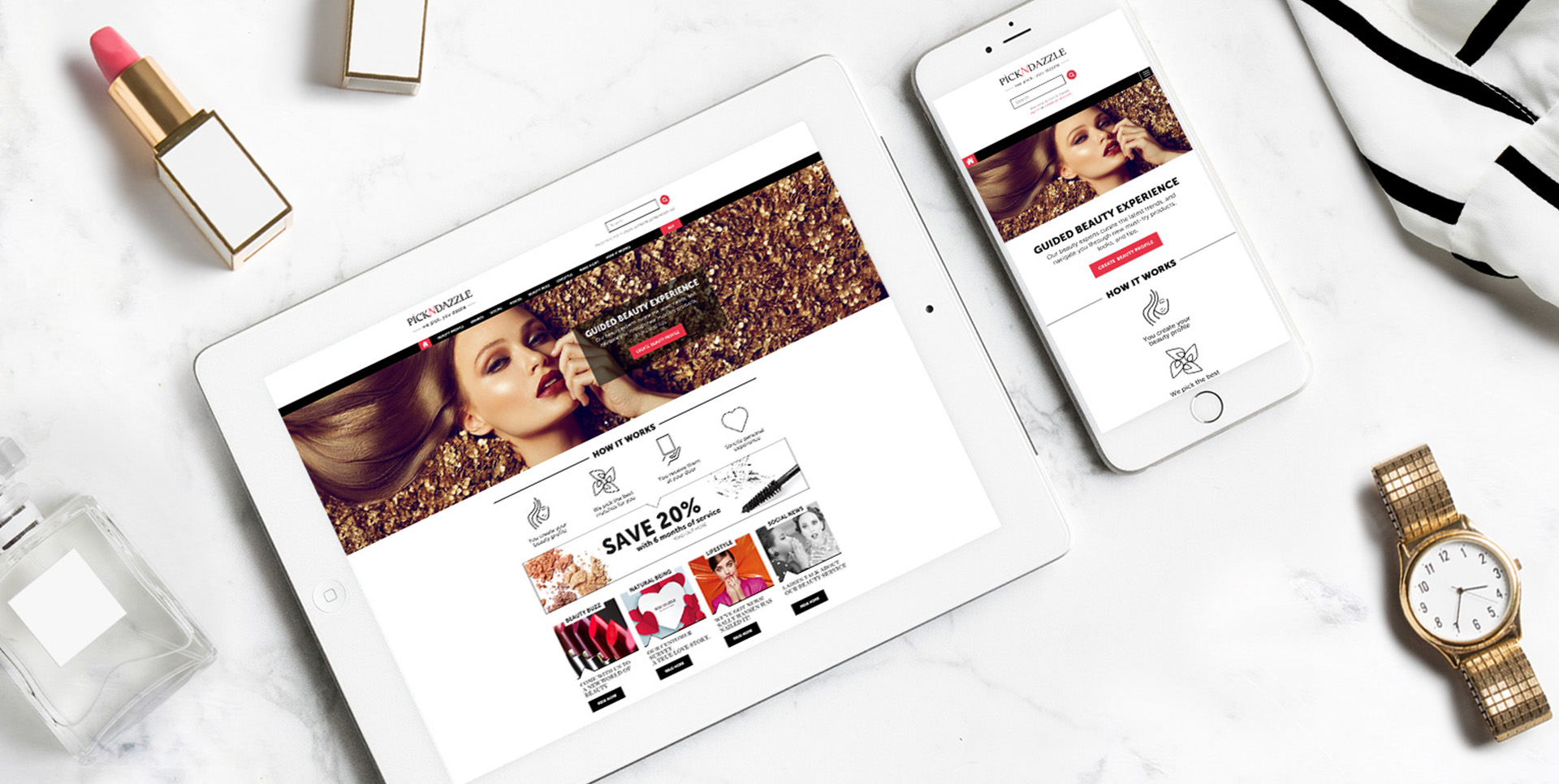 Corporate Identity Create and Evolve
Client: Pick N Dazzle | Our Solution: Brand, Design, Development
Our client in a nutshell
Pick N Dazzle is an innovative player with unique concept and competitive advantage in the tailored box subscription service market. The first and only personal beauty box with full-sized products, curated individually for every customer every month. Just a fresh start-up company, Pick N Dazzle wins "Pure beauty" Award 2015 in the UK for Most Innovative Sales Channel.
Ever since its conception, Pick N Dazzle continues to push the boundaries by persistently developing and evolving its product. Chromeye remains a solid digital partner and has been involved every step of the way.
The Challenge
Pick N Dazzle asked us to create together from scratch their online positioning as a new player in the beauty industry. Thinking of a name for the business that is bold, easy to remember and reflects the mission statement of the brand was both challenging and a lot of fun. Chromeye joined forces with a contracted marketing team to come up with Pick N Dazzle brand identity. After coming up with a short list of possible names, Pick N Dazzle was selected by the client. We were challenged to design the logo, corporate stationery, product packaging and the complete online presence of the brand.
Are you looking for creative experts to help you launch your brand identity?
This is our experience from the challenge we took upon with the innovative brand Pick N Dazzle.
Get in touch
The Solution
The nature of the business model required a very simple and elegant web solution, yet with many challenging functionalities. The initial website of Pick N Dazzle was both designed and developed by our in-house creative and development teams. We have remained our client's creative and UI/ UX agency designing plethora of additional features of the product and backing the designs with intuitive, concise interface. A notable challenge in continuing to evolve the product is the implementation of interface that is easy to navigate and helps PnD's client base in their user journeys accessing different new site features. The challenge was to implement new features and evolve the interface without making it confusing or ambiguous.
The Results
Pick N Dazzle continues to dazzle its client base through innovation and customer oriented services
Our clients were able to concentrate on what they do best – provide a unique service, while relying on Chromeye to produce their marketing materials
Opened branches in Romania and Bulgaria
New functionalities launched for loyal clients to be able to add products that they love to their monthly subscriptions
Let's team up for your next project
!