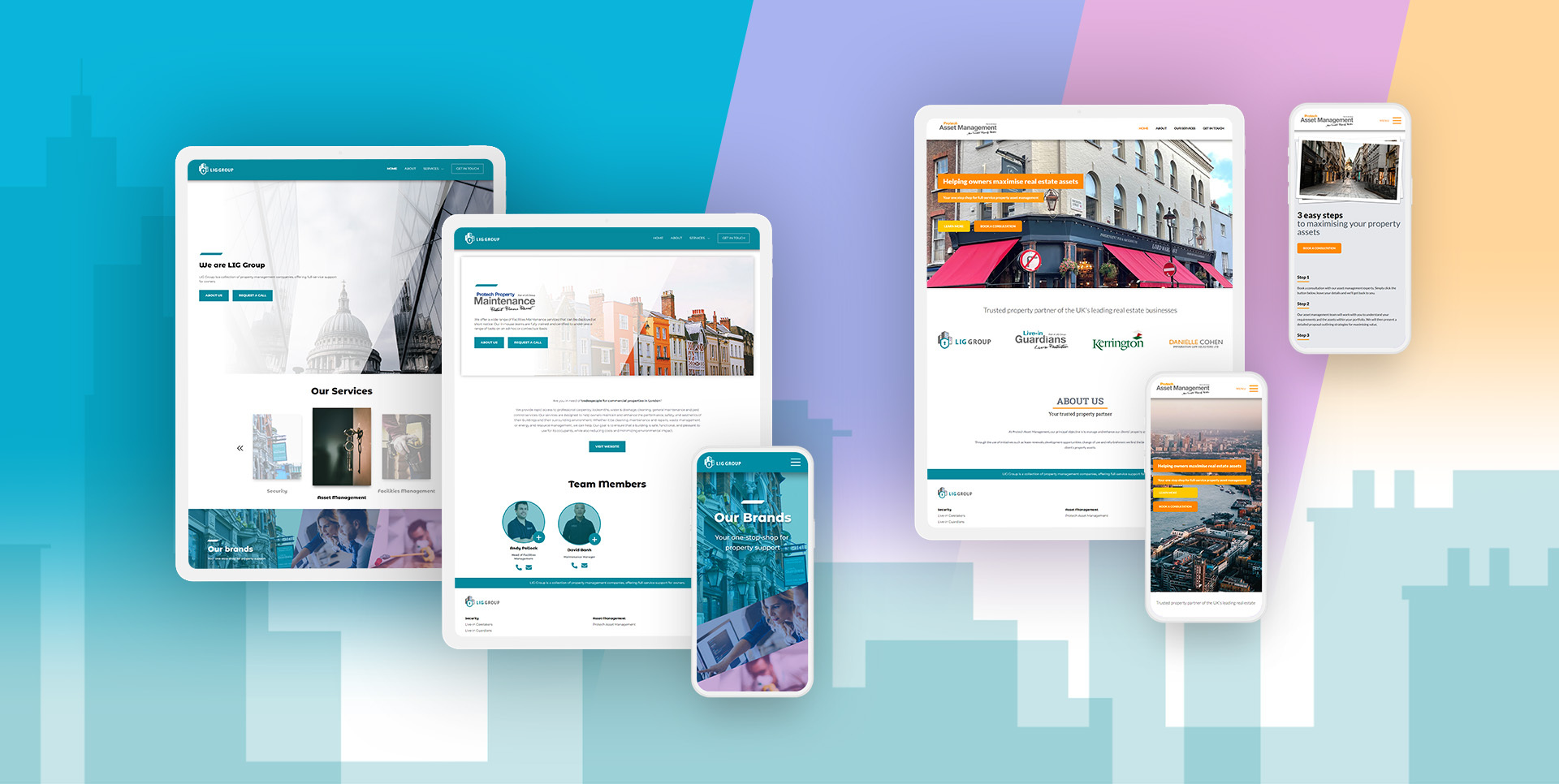 LIG Group: Logo and Websites UI & UX
Client: LIG Group | Our Solution: Group logo, Websites UI/UX
Our client in a nutshell
LIG Group is a full-service property management company offering services in the range of security, asset & facilities management, and pest control. The Group consists of a few daughter-companies providing property owners access to a network of industry experts working in different fields. Following a complex video project our clients from Live-in-Guardians (a market leader in vacant property protection) recommended Chromeye's services to the LIG Group's management team.
The Challenge
Chromeye's teams were entrusted with the development of the designs for the Group's website, the website of one of the daughter companies (Protech Asset Management) as well as the Group logo.
The creation of the LIG Group's logo was a tricky task as the idea behind it needed to encompass all various services offered by the daughter-companies. The design of the two websites was assigned to our experienced UI/UX experts.
Are you in need of a new website or a re-design of your current one? Is your company looking for a creative studio to develop its logo? You landed on the right page. Here at Chromeye we have the whole deal for you.
Take a moment and see how we developed the designs of two of LIG Group's websites and the Group logo.
Get in touch
The Solution
Chromeye's designers needed to get familiar with the brand guidelines of all daughter-companies in order to develop the designs of the new Group's logo and the two websites. A visual and brand consistency between all group sites was a must. The two tasks were assigned to two different teams which allowed for the work to commence simultaneously.
Property, Care and Security were the keywords that helped our logo experts come up with multiple options which we presented to the client for consideration. After a few discussion sessions the final creative direction was chosen and our design team proceeded with the final touches of the new logo design.
The Results
Satisfied client
Stylish new logo
Two elegant websites
Successful launch
---
"We worked with Chromeye to develop our new group logo and the team were fantastic. They helped us envision our company logo and design accompanying websites on a tight deadline. They were incredibly helpful, professional, and delivered exactly what we needed. Our logo and websites look stunning and capture our brand identity perfectly. We couldn't be happier with the results and highly recommend Chromeye to anyone looking for a talented and reliable team."
Said Hamed, Digital Marketing Manager at LIG Group
Let's team up for your next project
!