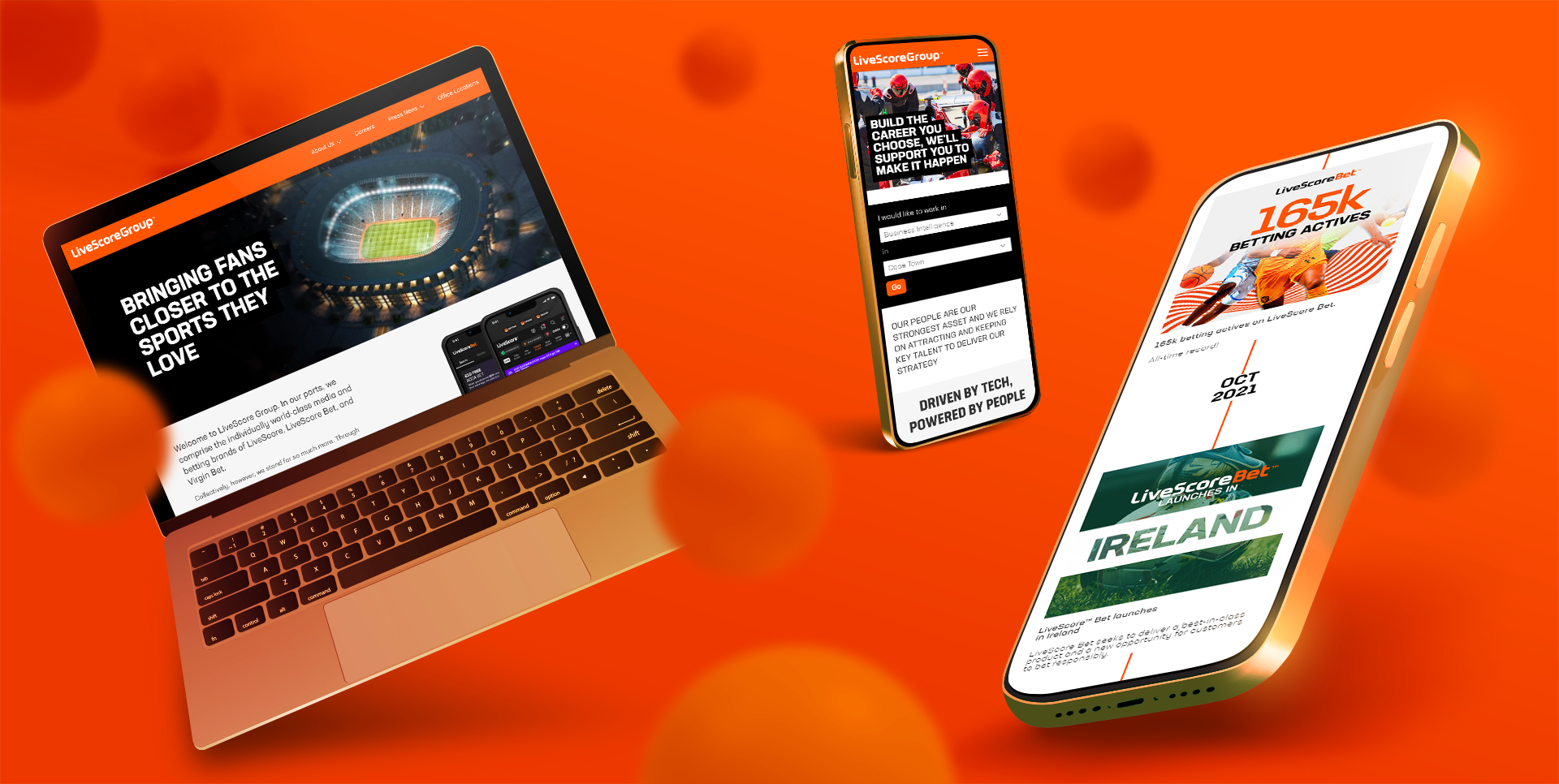 LiveScoreGroup: Corporate Website Development
Client: LiveScoreGroup | Our Solution: Corporate website development
Our client in a nutshell
LiveScoreGroup is a leading real-time sports updates and streaming service provider. Chromeyе has had the privilege to have the company as our strategic and loyal partner for years. During this time our teams have successfully completed countless projects for the Group's brands some of which – landing pages, emails, display banners.
In 2023 the LiveScore brand celebrates its 25th anniversary and as part of the honours to this event the Group initiated a process of selecting a digital agency for the development and integration of their new website. At the end Chromeye was chosen for this exciting project and we accepted the challenge.
The Challenge
The project was assigned to Chromeye and monitored by LiveScoreGroup's Head of Marketing Design. Chromeye's teams were given the task of building the new corporate website of LiveScoreGroup. It had to have excellent performance, to be more secure and much faster. Our development team had a relatively short time frame for completion and testing.
Should you need a new website or a re-design of your current one do not hesitate to contact Chromeye's team!
Check out the fantastic work we did developing LiveScoreGroup's new corporate website.
Get in touch
The Solution
As per the provided specifications Chromeye's team produced a classic WordPress site creating a custom theme which allowed the site to operate much faster than using an out-of-the-box theme. Our developers also made the effort and improved the new site's integration with the careers board platform of the company.
The CMS was set up in a way that gives the client maximum flexibility with the content and at the same time avoiding bulky page builders. As requested the team migrated the new website to the client's current hosting solution and this switchover between old and new version was performed smoothly and almost instantaneously.
The Results
Successful launch
100% desktop performance per Google site speed score (against 82% of the old website)
96% mobile performance per Google site speed score (against 54% of the old website)
Load time 1.9 seconds (against 4.8 seconds of the old website)
As Sam Sadi, CEO of LiveScoreGroup, announced on Linkedin:
"The website launch comes as LiveScore enters its 25th anniversary year and the start of the next LiveScoreGroup era."
---
Chromeye's team also received a formal acknowledgment by the Group's Head of Marketing Design:
"The team at Chromeye helped build the LiveScore corporate website. The team's professionalism, attention to detail, and seamless communication throughout the process made working with Chromeye an absolute pleasure. I couldn't be happier with the end result!"
Tom Clapp, Head of Marketing Design
Let's team up for your next project
!