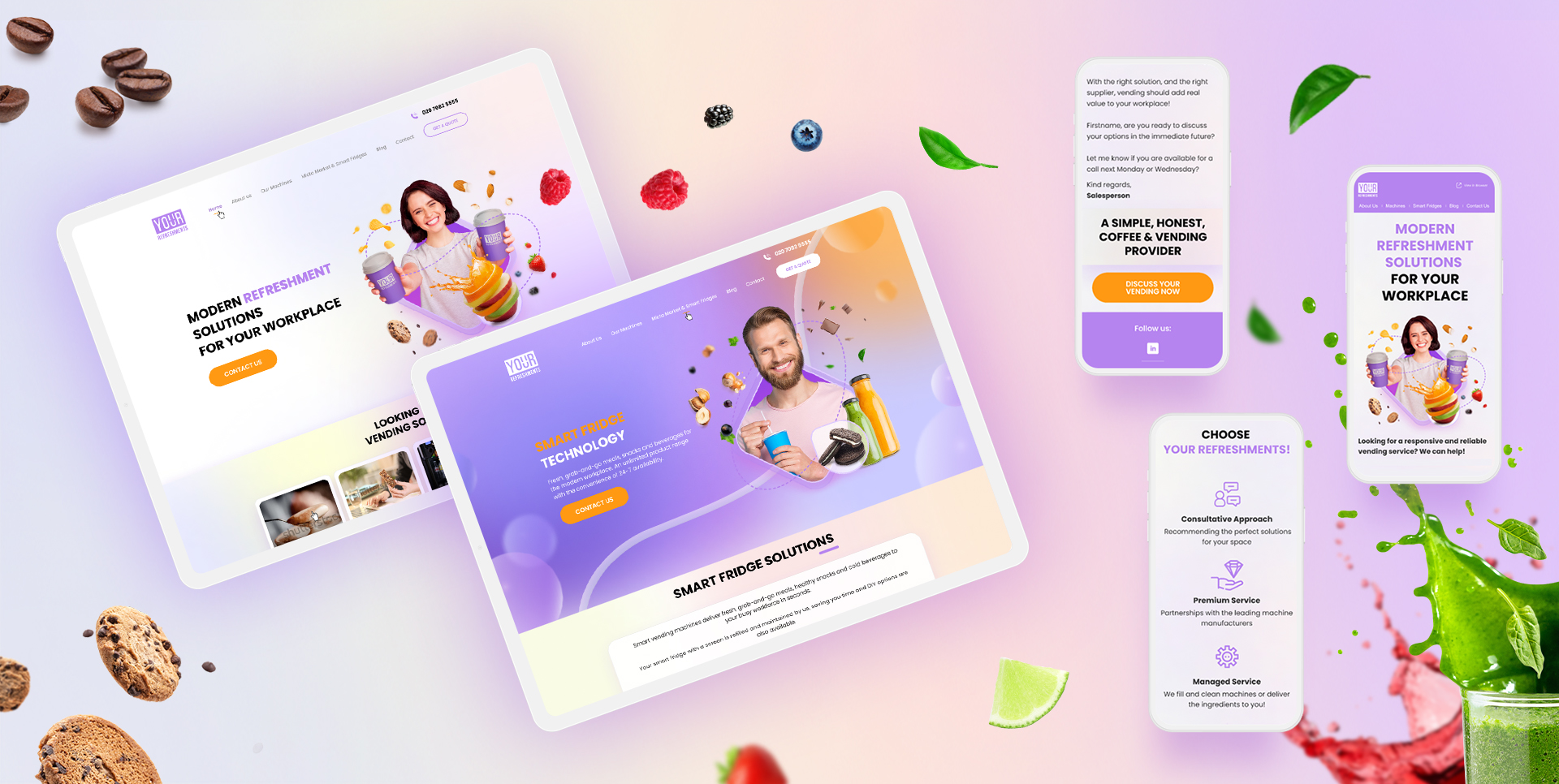 Your Refreshments – Brand Identity and Website UI & UX
Client: Your Refreshments | Our Solution: Brand Identity, Website UI/UX
Our client in a nutshell
Your Refreshments is a new brand of a startup family business offering very interesting services and products in the field of healthy nutrition and specific equipment for office environments. We were approached by them thanks to a referral of another company who valued Chromeye's services.
The Challenge
The project Chromeye was entrusted with had a large scope and was split into two stages. First, we needed to build the new company's brand from scratch: creation of a logo, selecting а color palette and a typography for the new business.
The second part of the project included the design and development of a new website, print materials and emails. Chromeye's teams faced two main tasks. Building the website in such a way that it is protected from attacks and destructive intentions. And at the same time design the UI & UX to preserve the new brand identity requirements for appealing and playful style.
Looking for a creative studio to build your company's brand identity and create various digital and print assets for your business? Here at Chromeye this is our specialty.
Take a look at how we developed Your Refreshments fresh and eye-catching visual identity & website.
Get in touch
The Solution
After some discussions with the client over the initial logo mock ups, Chromeye's team decided to focus on the word YOUR as it brought the personal feeling of care for one's health and wellbeing – a core value of our client's business. We chose to build a classic brand that works well both in formal and informal environments. We invoked the feeling of playfulness by using fresh and bright colors and imagery across all brand assets.
The tech approach for the second stage included:
Building fast, efficient & highly secure website
Considering integrations with third-party CRM services
Setting the base for future SEO optimization processes
The tech pack:
Headless CMS
Frontend: Next.js & React
Integration with third-parties
Hosting solution: AWS Cloud Services for higher dependability, availability & reduced costs
The Results
Satisfied client
Beautiful new brand
Safe & secure website
Successful launch
A leap in organic traffic
Elimination of all errors
Strong site performance 93%
New skills and knowledge gained
Let's team up for your next project
!